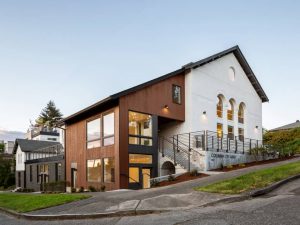 After being vacant for nearly seven years, Seattle architecture firm Allied8 revives the historic Columbia City Abbey into spacious apartments and retail space.
Due to the density limits of current zoning, demolition and rebuilding was not financially viable. Research revealed that Allied8 could significantly increase the interior floor area if they don't change the exterior massing.
The firm revised an old master use permit and an expiring contract rezone while designing an adaptive reuse concept to include 14 housing units and two retail spaces. The resulting design increased the total floor area by 28 per cent, adding 465 m2 (5000 sf).
Most of the original structure has been saved, incorporating the historic cornerstone into the architecture's design. The increased rentable space meant the developer was amenable to reface parts of the façade to create a connection to the neighboring community.