Irregularly sized zinc-colored metal panels provide an interesting visual feature on the new Cedar Rapids Public Library.
Comprising aluminum composite material (ACM) panels with a zinc patina finish, the panels juxtapose with smooth-surface materials to bring a complexity and depth to the Iowa building's façade.
The $22.5-million library replaces its predecessor, which was lost in a devastating flood in 2008 when the Cedar River crested at the highest level in the area's history. Raised about 0.6 m (2 ft) above the level of that flood, the building received U.S. Green Building Council's (USGBC's) Leadership in Energy and Environmental Design (LEED) Platinum certification.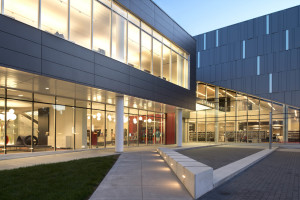 The panels cover a 1301-m2 (14,000-sf) area and are 4-mm (0.2-in.) thick with a fire-resistant core. Placed in a non-repeating pattern of high and low projections, every panel had its own specific place on the building. A base panel size of 1.5 m (5 ft) was established, and other smaller variations were applied in a random pattern. The design team also integrated a large number of lighting panels into the façade. Since the system is non-progressive, individual panels can be easily removed or replaced.
In addition, the library features a 2230-m2 (24,000-sf) vegetated roof for patrons to enjoy. Since a large portion of the metal cladding material is accessible, the decision was made to use aluminum panels with a zinc patina finish to prevent 'fingerprinting'—a concern with natural zinc.
Located within the city's urban core, the new library fronts Greene Square Park and bookends the Cedar Rapids Museum of Art. The building itself is stepped back from the street to create a large urban plaza that opens to reveal to the public the inner workings of the library. One of the design requirements was the library be easily identifiable as such; this was made possible through the use of floor-to-ceiling windows. Their use also visually connects the streetscape with activities taking place inside the building.