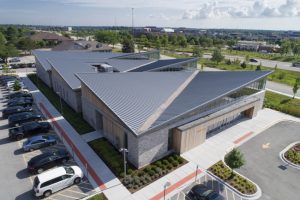 The Shirley Ryan AbilityLab has added a 2323-m2 (25,000-sf) outpatient facility in the western suburb of Burr Ridge, Illinois. The rehabilitation care center is topped by a standing-seam metal roof with angled panels that create a vision of wings in flight. It also generates room for clerestory windows that help fill the interior with natural daylight.
The building's exterior comprises three major volumes, made visible by projecting bays along the façade and the arrangement of the angled roof panels. Breaking the exterior elevation into smaller pieces also helped architects with HDR's Chicago office reduce the building's visual impact—those living in an adjacent residential neighborhood had concerns the facility might appear too commercial for its location. The designers ensured the building was compatible with its surroundings.
"We did that by the use of materials—wood and brick—and scale," said Tom Lee, AIA, NCARB, an HDR design principal. That desire to fit in led to the choice of roof profile, as well. "We did these sorts of folded roofs on each of the volumes that help get light into the therapy spaces, and giving the building a pitched roof gives it a more residential character."
However, Lee adds, self-imposed height restrictions meant standard roofing-material options would not be suitable. "We did not want the buildings to be too tall, so that required a low slope to the roof pitch," he said. "We realized that we could not find an asphalt material that would work with a low-slope roof. Metal is the only option to get the low slope."
Investigating metal options, Lee's team first turned to a material that would develop a weathered patina, over time, to blend well with the façade's garapa wood cladding. They knew the Brazilian hardwood would gray, as well, over time. When the first choice proved too costly, they discovered a weathered zinc finish. Now, 2090 m2 (22,500 sf) of 24-gauge steel panels top the Shirley Ryan AbilityLab Outpatient & DayRehab Center's six triangular roof forms. An additional 353 m2 (3800 sf) of soffit were also specified, along with 3-mm (1/8-in.) column covers.
Over time, Lee expects the wood cladding's current blonde tones to age into something much closer to the roof's weathered zinc.
"We actually rendered the building in both the new condition and in the silvery-gray that would work well with the metal," he said. In the meantime, he appreciates the added visual interest the standing-seam profile brings to the project, as a whole.