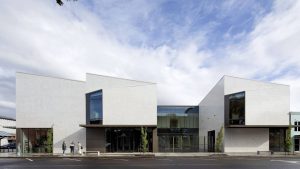 After a statewide search and ideas competition, Allied Works was selected to design a new museum for the Benton County Historical Society in Corvallis, Oregon.
Located opposite a 125-year-old general store and the former territorial capital of Oregon, the 1765-m2 (19,000-sf) museum asserts a contemporary presence while respectfully complementing these sites through massing, material, and detail.
Four parallel structural bays echo the scale and meter of the neighboring storefronts, while façades of ceramic tile reinterpret the masonry building traditions of the historic downtown core. The building embraces the street, inviting the public into the lobby and exhibit hall, museum store, classroom, event space, and a public courtyard. Glimpses into the galleries are seen from the principal cross streets as projecting bays and windows fold out over the sidewalk.
Within, visitors are guided up a grand staircase into a series of interconnected galleries. The galleries occupy clear-span bays bisected by clerestories providing controlled daylight to accommodate the varied nature of the collection. Inside and out, the Corvallis Museum presents an inspired dialogue of art and history, and a new model for local and regional institutions throughout the country.
The museum showcases a growing collection comprised of cultural artifacts, natural history specimens, and archives entrusted to them by Oregon State University. The society sought to elevate its visibility in the region by creating new galleries and interpretive spaces in the heart of the central Willamette Valley.