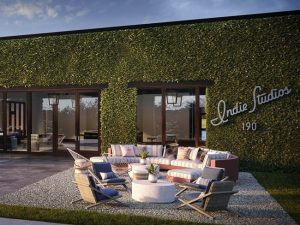 Indie Studios, a cultural development project by Gene Kansas and designed by Revive Architecture, converts a 3252-m2 (35,000-sf) former warehouse space in Atlanta, Georgia, into a creative, open-share studio environment. 
Designed by Laura Daniel, principal architect at Revive, the project incorporates healthy design trends and fresh-air elements. Daniel and her team wanted the indoor/outdoor experience to be a unique draw for Indie Studios.
In addition to design components mentioned above, some other health-forward elements include:
each studio has its own HVAC system that is not shared with any other space in the building;
outdoor space, paired with thoughtfully designed community space indoors, a library, and café;
direct access to the Atlanta BeltLine's Northeast Trail;
46 m (150 ft) of linear front garden space;
studios and the common space are sprinkled with skylights providing abundant natural daylight throughout the workspaces;
shower rooms for bike commuters and lunch-time workouts;
a nursing room;
indoor bike storage; and
purposeful plants in the common spaces for air purifying and a portable air filter for meeting rooms
Built in 1957, the original construction of the warehouse is unlike many around the city, offering a unique aesthetic and a roof deck made from wood. Each of the 12 private studios (accommodating teams of eight to 20 people) is washed in natural light with expansive glass walls and its own private outdoor space.
The library at Indie Studios provides a digital portal to a large catalogue of local and remote content brought to visitors, guests, and  members via fiber Internet and a 6-m (20-ft) long x 4-m (12-ft) high, large-screen video display wall offering an immersive telepresence experience.
Designed and created by CineMassive, the digital hub technology offers teleconferencing capability, presentations, research and brainstorming optionality, and for those who want some colorful downtime, the ability to transform the room into a giant arcade.