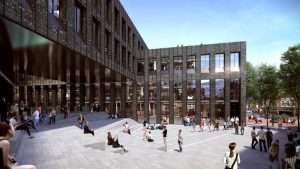 EskewDumezRipple, a national award-winning architecture, interiors, and urban design firm, announced the opening of its Washington, DC office, marking the second location for the distinguished design practice.
The announcement coincides with an expansion of firm leadership. Recently named principal, Noah Marble, AIA, will head the new office, bringing a diverse design background spanning more than 20 years of architectural experience across civic, cultural, mixed-use, housing, and higher education typologies.
Noah Marble re-joins EskewDumezRipple after leaving New Orleans several years ago to move to Washington, DC. In his prior time with EskewDumezRipple, Marble was instrumental in many of the firm's mid-Atlantic projects currently under construction, including the design of a 4459 m2 (48,000 sf) renovation and expansion for the Bruce Museum of Arts and Science in Greenwich, Connecticut, and the soon-to-open Center of Developing Entrepreneurs (CODE) in Charlottesville, Virginia. CODE is a 19,974 m2 (215,000 sf) complex providing a unique and innovative mix of retail, co-working, and commercial office development to support both emerging and established businesses.
"EskewDumezRipple has a long history of approaching projects with a context-sensitive, human-centered design process" notes Marble. "One of our greatest strengths is how we use the deep knowledge and experiences of the specific places we are most familiar with to create truly memorable spaces with our clients that grow from the places they are most familiar with. I'm thrilled to have the opportunity to advance the mission of EskewDumezRipple in a very direct way in a place that is new to us as a firm, but with an immensely deep history and context to explore."