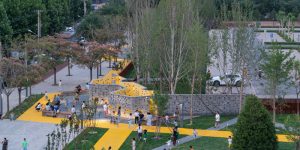 Crossboundaries, an architecture firm in Beijing, China, was commissioned to regenerate a linear streetscape adjacent to a parking lot close to the Xiaopu Cultural Plaza into a lively outdoor community park.
The park is suited to the site environment through a proper choice of materials and vegetation, combined with carefully designed spatial configuration, sequence, and atmosphere. The main component of the structure is a perforated gray brick wall with integrated seating in designated areas, alternating with a double lower layer of perforated weathering steel.
Behind it lies a green zone filled with southern Chinese pine trees and low bushes, forming a natural buffer to the parking area that can be accessed through various hidden pathways.
On the street side, long planters framed with weathering steel edges contain Persian silk trees, forming a natural separation from the busier road to the public area, and acknowledging the new addition to the site combined with the existing and preserved more mature trees (Chinese locust trees) embedded within the re-used pavement stones.
The L-shaped plot features a series of outdoor 'rooms' that provide unrestricted usage and trigger a variety of activities along a linear loop track, serving as a connecting element that meanders between the street side pavement and the park at a pocket of the site.
The yellow track connects the rooms physically with each other, while also forming a visual link between the different public areas. The path extends into and through the small park area, which depicts a more natural landscape, with London plane and Ginkgo trees, in contrast to the organized promenade in the front.
Transforming the initial street corner into a small plaza, the first room opens a semicircular space defined by angular brick walls and large mirror surfaces. The second room is a place for tranquil interactions: long benches along the stepping profiles of interspersed brick walls invite Chinese chess players and their audience.
On the corner of the extending park, the third room is dedicated to child's play: a bright yellow room inside a room; layered brick walls with differently sized openings for peek-a-boo and hide-and-seek; connecting speaking tubes through which shouting, and singing can be heard.
Inside the rectangle of the park, the yellow loop track itself spans up to the fourth room, increasing in size to become an open-air gym, an exercise space in the middle of green meadows.