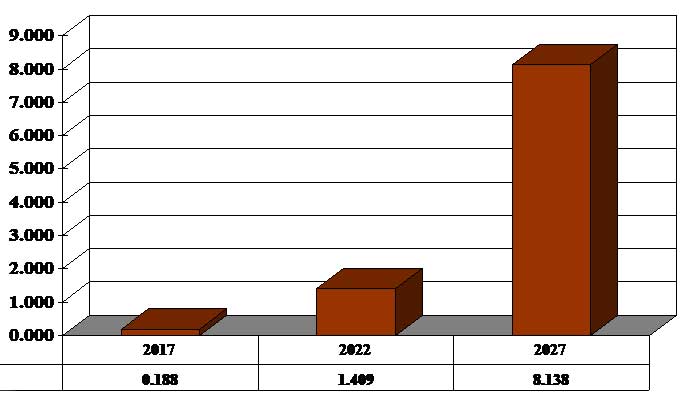 The worldwide consumption value of selected organic light emitting diodes (OLEDs) for lighting applications reached an estimated $187.6 million last year, with consumption value forecast to increase at an average annual growth rate of 49.7 percent, hitting $1.4 billion in 2022, reports market and technology forecast group ElectroniCast Consultants. Additionally, ElectroniCast predicts total consumption value will jump to nearly $8.14 billion in 2027, with all values/prices at factory as-shipped levels, considering a five percent annual inflation rate over the forecast period.
Previously used primarily in small-screen devices (e.g. mobile phones, digital cameras, etc.), in 2017, there was enough interest in and activity with OLEDs by large lighting competitors with manufacturing capabilities to push for mass production of the product in coming years, according to ElectroniCast. The report also emphasizes that the OLED panel market should not be limited to lamps and other typical lighting fixtures; rather, this technology will likely surpass traditional light sources for a broad base of applications.
The report, however, emphasizes that OLED research and development (R&D) will have to find unique style and design in order to set this option apart from competing light solutions, many of which already have substantial customer base and established sales/distribution channels.
For more information on the report, contact Theresa Hosking of ElectroniCast at thosking@electronicastconsultants.com.