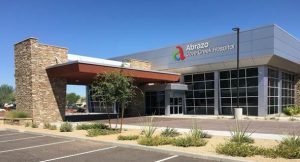 Construction management firm and general contractor Adolfson & Peterson Construction (AP) has completed construction on Abrazo Cave Creek Hospital in Cave Creek, Arizona.
Expected to open mid-2021, the neighborhood hospital will provide area residents with emergency care and low-acuity surgical services. The single-story, 3251-m2 (35,000 sf) hospital features a 13-bed emergency department, operating room, eight inpatient rooms for overnight stays, imaging suite for x-ray, ultrasound and computerized tomography (CT) scans, and laboratory and other services.
"Demand for micro hospitals in the Southwest has continued to grow, and our ability to quickly construct and deliver a hospital like this one enables providers to meet their patients' medical needs closer to home," said Scott Salyer, regional manager for AP.
The hospital's emergency room will be open 24/7 year-round, and staff will work closely with first responders and emergency medical service (EMS) to serve Cave Creek and North Valley communities.
Construction on the hospital began in January 2020, and it is expected to open for patient care after completing equipment and supply delivery and setup.