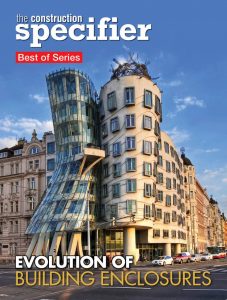 The magazine's series of sponsored e-books continues with a look at developments in air- and water-resistive barriers as well as thermal management in the building envelope.
The newest volume in The Construction Specifier's series of free, downloadable e-books is a technical exploration of building enclosures with topics ranging from cavity wall design and specifying masonry wall systems to dealing with moisture in roof decks. The curated collection of magazine articles also includes a look at the durability of tapes and flashing.
Download the "Evolution of Building Enclosures" e-book in two different formats—pdf or digital edition—by visiting https://www.constructionspecifier.com/ebook/huber-evolution-of-building-enclosures-e-book.