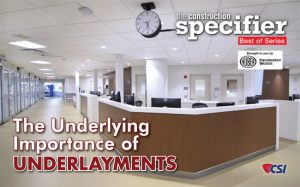 The Construction Specifier has announced the newest volume in its series of free, downloadable e-books—a technical discussion on the importance of underlayments.
It illustrates how real-world performance of underlayments is often impacted by floorcovering and why care should be taken to select materials with the ability to meet the unique demands of the job to ensure long-term performance.
The curated collection of magazine articles also outlines important considerations for evaluating flooring options for healthcare centers to reduce noise levels while maintaining high standards of cleanliness.
It also highlights why it can be beneficial to use ceiling panels with a high noise reduction coefficient (NRC).
Download The Underlying Importance of Underlayments e-book in two different formats—pdf or digital edition—by visiting www.constructionspecifier.com/ebook/huber-the-underlying-importance-of-underlayments-e-book.