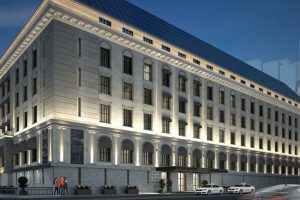 Dyer Brown will be reinventing the Langham, Boston, Massachusetts, with London, United Kingdom-based interior design firm Richmond International.
The Langham, Boston is currently undergoing an extensive renovation and is set to re-open as a luxury hotel in the summer next year. This project includes a complete transformation of all guest rooms, event space, the addition of a new club lounge, and a new bar and restaurant.
"As the process of reinvigorating this landmark property with new life continues, it is exciting to watch the hotel's new features come to life," said Michele Grosso, managing director of the Langham, Boston. "This renovation will highlight the architectural grandeur of this iconic building, but will also launch the Langham as a new American classic within the luxury hotel industry."
The renovation includes:
a new lobby;
a new club lounge featuring a private space;
redesigned guest rooms and suites;
the restoration of the Chairman's Suite, a luxury penthouse;
an update to the Governor's Room (boardroom);
the new Lincoln Ballroom, which will feature natural light by way of a skylight flanked by chandeliers;
an art collection by renowned local artists that will reside throughout the hotel in tribute to the history of Boston;
a grand new entrance with slate awnings and light fixtures that will illuminate the façade; and
a new destination bar with an outdoor terrace and an innovative restaurant concept.