by Michel Merkx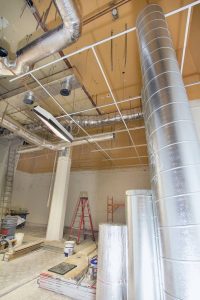 Pressure-sensitive adhesive (PSA) tape—generally thought of as a tool for binding things together—is actually a multifaceted and versatile product with usage going beyond its more understood "stickiness." PSA tape technologies have properties for insulating a building from environmental events such as precipitation, vapor ingress, extreme cold and heat, as well as external noise. Various PSA tape backings (e.g. aluminum and multilayer films) are characterized by strong adhesion and high resistance to harsh environments, and have the ability to create a vapor barrier, thereby protecting the insulation.
According to an article by Tom Epple, 2016 chair of the Pressure Sensitive Tape Council's (PSTC's) technical committee, building and construction professionals should consider PSA tape as a viable material to employ in HVAC projects because of its effectiveness in various environmental situations and ease of application.
"In insulation and HVAC applications, high-performance acrylic adhesives designed for these applications bond effectively at temperatures as low as –18 C (0 F), giving builders and contractors added flexibility. Tapes using advanced adhesives are employed to connect, join, seal, and patch flexible ductwork, and help create a secure vapor barrier for highly effective sealing," Epple said.
High-performance acrylic adhesives can display high-holding strength and bonding to a range of high-, medium-, and low-surface energy substrates. Many types of tapes are employed for different processes in the HVAC field. PSAs can join/adhere to duct board, flexible duct, and duct wrap with application pressure and without the use of a solvent for activation. High-performance adhesive technologies (e.g. solvent- or water-based and hot-melt), employed in PSAs, are available in various product types and formulations, but share the same basic properties.
Double-coated, transfer or foam tapes are viable options for some HVAC projects, but utilizing a single-coated PSA tape often fits the criteria best. Created when an adhesive is applied to only one side of the backing, single-coated tape may be composed of paper, polymeric film, foil, nonwoven, or high-thread-count woven cloth. The top of the backing usually receives a release coating, while the bottom is coated with a primer or plasma treatment to ensure bonding of the PSA layer. This type of tape can be self-wound. It consists of an adhesive coated on a substrate, creating a permanent bond between the two. It is important to note many other tapes employed in HVAC—such as foil—are not self-wound but use a paper release liner.
The two most common tapes used for barriers are butyl rubbers and acrylic tapes.
Acrylic tapes are created by polymerizing monomers to create polymers with specific properties, and are employed in situations where insulation is essential, such as HVAC. They provide a reliable seal and have a high level of cohesion. Acrylic polymers are well-known for their weatherability, and can be employed in harsh outdoor and indoor environments for years without degradation, unlike many rubber chemistries. Tape used for moisture barriers is made from a range of materials and thicknesses to fit virtually any performance criteria.
Butyl tape is produced using a synthetic rubber adhesive. These tapes are designed to be air impermeable, waterproof, and insulating. They provide a watertight bond for optimum sealing, and can conform to irregular surfaces without degrading adhesion strength. Butyl tapes have a high initial tack and are more aggressive on contact.
Products known as "duct tape" are not the same as specialty tapes designed for HVAC ducts. A study conducted at the environmental energy technologies division of Lawrence Berkeley National Laboratory concluded duct tape—which the researchers had defined as any fabric-based tape with rubber adhesive—should not be employed to seal ducts due to its inability to withstand various environmental changes.
Using PSAs in ductwork insulation can ensure air traveling through the system does not leak and cause HVAC systems to work harder. When using PSA tapes, it is important to consider the chemistry makeup. For example, product developer Martin Widenbrant in his 2016 PSTC technical seminar paper, "PSA Technology and testing requirements for water vapor permeable air barriers," notes the major advantage with a PSA tape air barrier is installer-made defects (holes, cuts, or tears) are limited to the defect. Air movement through the defect into other parts of the building is restricted due to the adhesive effectively blocking access to the rest of the wall unlike a mechanically-fastened material with holes that allow complete access to the wall, thereby reducing the energy-savings performance of the air barrier material and insulation.
It is also important to ensure the PSA tapes being used follow the building and construction professional's code compliance and regulations. These compliance measures ensure the PSA tape has the necessary adhesive capabilities and the proper shear strength to remain effective for the life of the HVAC system. Staying up-to-date on code compliance and regulations could mean the difference between passing and failing an inspection.
The important objective for all building and construction professionals is to keep in mind the amount of pressure needed to be applied to create a permanent seal. Following a tape manufacturer's instructions and installation techniques will not only safeguard proper adhesion of the tape, but also ensure a project is safe from exterior penetration for years to come.
Michel Merkx is vice-president for the global tape division of American Biltrite. He brings his knowledge and expertise about pressure-sensitive materials, production processes, labels, and various market trends to his current role as the president of the board of directors for the Pressure Sensitive Tape Council (PSTC). Merkx holds an MA in international business management and an MBA. He speaks Dutch, English, French, German, and Spanish. Merkx can be reached at info@pstc.org.