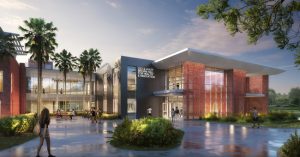 Stetson University in DeLand, Florida, will break ground on the Cici & Hyatt Brown Hall for Health & Innovation in the fall. The result will be a 11,148-m2 (120,000-sf) science complex for students studying health and environmental sciences and other fields.
At just over 3716 m2 (40,000 sf), the building will connect to Sage Hall Science Center, currently 7525 m2 (81,000 sf), through glass-enclosed walkways. It is scheduled for completion by the Fall 2022 semester. In addition to new construction, Stetson will renovate and update portions of Sage Hall; the Sage Hall project is expected to be completed before students return in August for Fall 2021.
Williams Construction Company handled both the construction and renovation projects. Stetson chose the firms Harvard Jolly Architecture and Kahler Slater as the architects for the Brown Hall project. The architectural firm for Sage Hall's renovation is Lord Aeck Sargent.
"The university's vision for the new building is to create spaces and experiences that will allow ideas, learning, and interests to converge, and evolve into groundbreaking discoveries and innovative pedagogy," said Bonita Dukes, associate vice-president for facilities management.
Renovations to Sage Hall will include a new cluster of research labs with four different research areas to include cell tissue culture and molecular and microscopy research. The vertebrate anatomy teaching lab will house an Anatomage Table, a fully segmented, real human 3D anatomy system. Plans also include more formal and informal collaboration spaces for students and closing in a second floor, 111-m2 (1200-sf) balcony. Changes to Sage Hall will require upgrading the building's mechanical, electrical, and plumbing (MEP) infrastructure to support the demands of the new research environments.
The vision for the new Brown Hall is to create spaces and experiences which will bring new opportunities for Stetson students in health and environmental sciences, counselor education, sustainable food systems, public health, and community engagement, Stenson University said in a press release.
New flexible and transparent active learning classrooms, research pods, wet teaching labs, an environmental field studies mud room, a play therapy room, and a SMART lab, will enable students to work and learn in a variety of educational settings.
The new teaching kitchen, teaching/community garden, and greenhouse will support the Sustainable Food Systems academic program, interdisciplinary learning, and Stetson's larger community engagement efforts. The building also will be home to the new Stetson Center for Optimal Health Across the Lifespan, a collaborative group consisting of counselor education, health science, psychology, and public health departments.