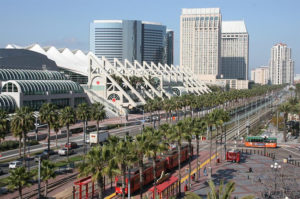 Informa Connect and the U.S. Green Building Council (USGBC) announced the 2021 Greenbuild International Conference and Expo will take place both virtually and in-person from September 21 to 23 in San Diego, California.
With the return to an in-person experience, the organizers seek to ensure expanded networking and sourcing opportunities in addition to hands-on learning experiences. Virtually, global audiences can attend the live event as well as three virtual themed summits preceding the event taking place August 12, 26, and September 9.
"For the first time ever, our audience has the opportunity to attend Greenbuild either in person or virtually from anywhere in the world. Due to that, this year's event promises to be boundaryless and even more global and inclusive than ever," said Sherida Sessa, Greenbuild brand director.
"We chose San Diego as the backdrop for the Greenbuild Conference and Expo because it is a city leading the way in sustainability programs and with so much to do and see outside of the convention center, it offers endless opportunities for hands-on learning and networking," Sessa said.
With the September 21 to 23 hybrid event, Greenbuild seeks to broadens its education offerings to include more sessions on high-demand topics such as carbon, financing solutions, sustainable communities, social equity, materials, health and wellness, resilience, and more.
This year's event will also include three virtual summits focused on some of the most critical challenges the industry faces. This year's summits are Green Business, Global Health & Wellness, and Resilience. With the multi-event, in-person and virtual format, Greenbuild customers can participate in all three summits plus the main event in September.
"With new, impactful networking opportunities in creative formats, radical sustainability innovation, and new special events, Greenbuild will be an opportunity for our community to not just learn together, but problem solve together," said Kim Heavner, vice-president of conferences and events at USGBC.
The redesigned event will include everything attendees love about Greenbuild, including inspiring and diverse world-class keynotes, accredited education, and an expo floor with cutting-edge technology, Informa said in a press release.