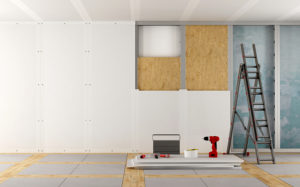 The Gypsum Association (GA) has released revised versions of five of its technical documents in an effort to remain consistent with current best practices.
"Regular review and revision of GA documents is a key component of the Association's technical services mandate, and the GA's Building Code and Technical Committee (BCTC) has made a three- to five-year revision cycle for all documents a high priority," says Michael Schmeida, M.Sc., LEED AP, the association's director of technical services. "We are committed to further developing our website as a technical hub for the gypsum industry. Nonetheless, we are equally determined to provide technical advice via phone during business hours."
The documents reviewed in this case are:
GA-220-2016, Gypsum Board Winter-related Installation Recommendations;
GA-223-2016, Gypsum Panel Products, Types, Uses, and Standards;
GA-226-2016, Application of Gypsum Board to Form Curved Surfaces;
GA-234-2016, Control Joints for Fire-resistance-rated Systems; and
GA-338-2016, Guidelines for Prevention of Mold Growth on Gypsum Board.
Of these, GA-220-2016 is particularly relevant given seasonally damp and cold weather conditions currently experienced by much of the country. Responding effectively to such conditions is crucial to preventing joint compound bond failure, beading, and nail popping. This can be done by taking steps like those described in the document, such as ensuring room temperature does not drop below 10 C (50 F) for 48 hours before, during, or after finishing.
GA-234-2016 is useful for building professionals who need to specify control joints to reduce assembly stress in walls and ceilings. Correctly specified and installed control joints alleviate cracking and ridging in gypsum board.
"The Gypsum Association is fortunate to have technical expertise both in-house and among our member companies," says executive director Stephen H. Meima. "Member volunteers devote significant time to service on the BCTC."
All five of the updated documents are available for free download via the GA Bookstore.