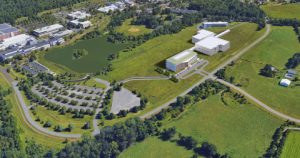 A new medical manufacturing site and research center, developed by IPS and DPR Construction, is coming to Princeton's West Innovation Campus.
BeiGene, Ltd., a biotechnology company focused on developing and commercializing cancer medicines, has purchased a 17 ha (42 acre) site on the university's campus in Hopewell, New Jersey.
The state-of-the-art facility is expected to include up to 37,161 m2 (400,000 sf) of commercial-stage biologic pharmaceutical manufacturing—including up to 16,000 L (4227 gal) of biologics capacity—along with research and development and office space.
Construction of the initial phase is expected to commence in 2022 and be completed in 2023 or 2024. The property has more than 92,903 m2 (one million sf) of useable real estate for future expansion.