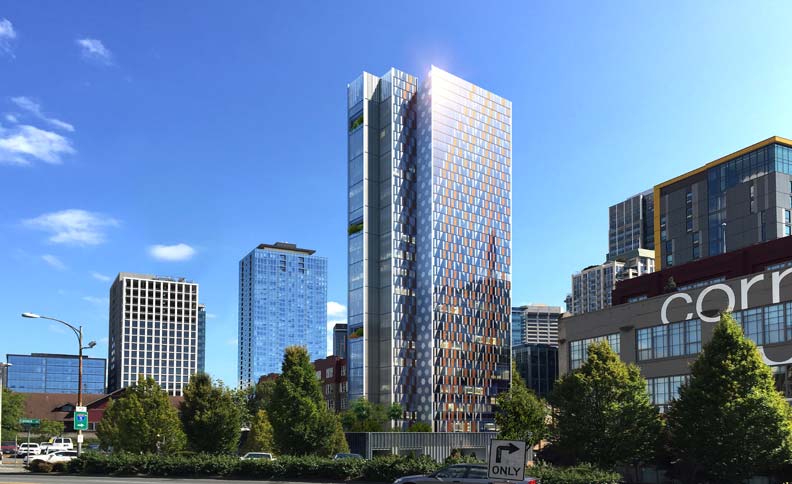 by Amir Lotfi
There is considerable fervor on the use of mass timber in tall buildings. Much has been written and investigated about this methodology, but its application in the tall building arena is relatively unclear. The architecture, design, and planning firm CallisonRTKL recently conducted research as an attempt to posit a realistic, constructible, and highly sustainable way of undertaking this challenge. It also addresses a solution for current paucity of affordable accommodation within dense city cores.
Mass timber is the only renewable structural building material of scale; it also has the lowest energy consumption across its life cycle. Sourced from sustainably managed forests or from cheap, sustainable softwood, panels are glued or pinned together, possessing excellent structural stability. The raw material itself may be of varying thicknesses, quality, and strength as the panels are engineered for performance properties identical to or even stronger than concrete.
CallisonRTKL envisioned a project in Seattle's downtown area in the form of a 40-story (i.e. 128-m [420-ft] tall) residential tower using mass timber as the primary structural material and technology of choice for all floor assemblies, beams, partitions, and upper-level columns. The research showed a hybrid and composite format of construction was the optimal solution for a structure of this magnitude.
The tower core, two extending outrigger walls, and the foundation are the only components that would be constructed in-situ with reinforced concrete. Lower floor columns are fabricated in steel and two other outrigger walls in carbon fiber, using the structural performance advantages of new, lightweight carbon fiber strands in a hexagonal net configuration for wind-load resistance.
The design process was a coordinated effort between engineering consultants, construction contractors, and cost estimators to validate the structural and cost-competitiveness of a real-time solution via performance benchmarking. Using relevant industry research and three-dimensional explorations, the study was developed to serve as a prototype solution responding to regulatory constraints as well as developer and client needs.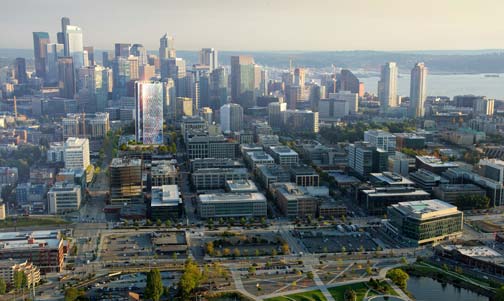 The design strategies identify opportunities for strategic integration of mass timber products into the construction assembly of tall buildings. Significant advantages exist relative to environment, business and industry, cost, and occupant experience. The outcome is a new typology for tall building systems and assemblies that can be prefabricated—in part from renewable building materials.
The implications of this new technology are of a global magnitude. Mass timber designs will impact business and manufacturing streams and construction where timber is available and can be sourced regionally in close proximity to the project site. Additionally, mass timber construction offers distinct performance advantages over conventional cast-in-place concrete technologies with implications for environmental, economic, and social sustainability. These benefits include equal or lower price point as compared to conventional construction, shorter construction times, reinvigoration of local forest, timber and manufacturing industries, and consistency and higher quality control through factory prefabrication.
Capitalizing on the performance advantages of engineered wood was key for the design proposal and cost feasibility study. The design goal is to maximize the use of engineered wood in tall building design and in assemblies and components that yield the greatest economic benefits as compared to conventional means of construction.
Overall, the Seattle mass timber tower design defines a vision to build tall, dense, resilient, sustainable, and low-carbon developments in the coming decades in this vibrant city. Using mass timber as the primary constituent in this tall tower posits the notion a development that sequesters carbon on a large scale is an appropriate, responsible, and feasible approach to future growth. Such an endeavor will obviously require substantial political leadership, regulatory approvals and financial commitment and resources. This study suggests using mass timber in a creative and responsible way reduces carbon footprints and brings us closer to the goal of a more sustainable future.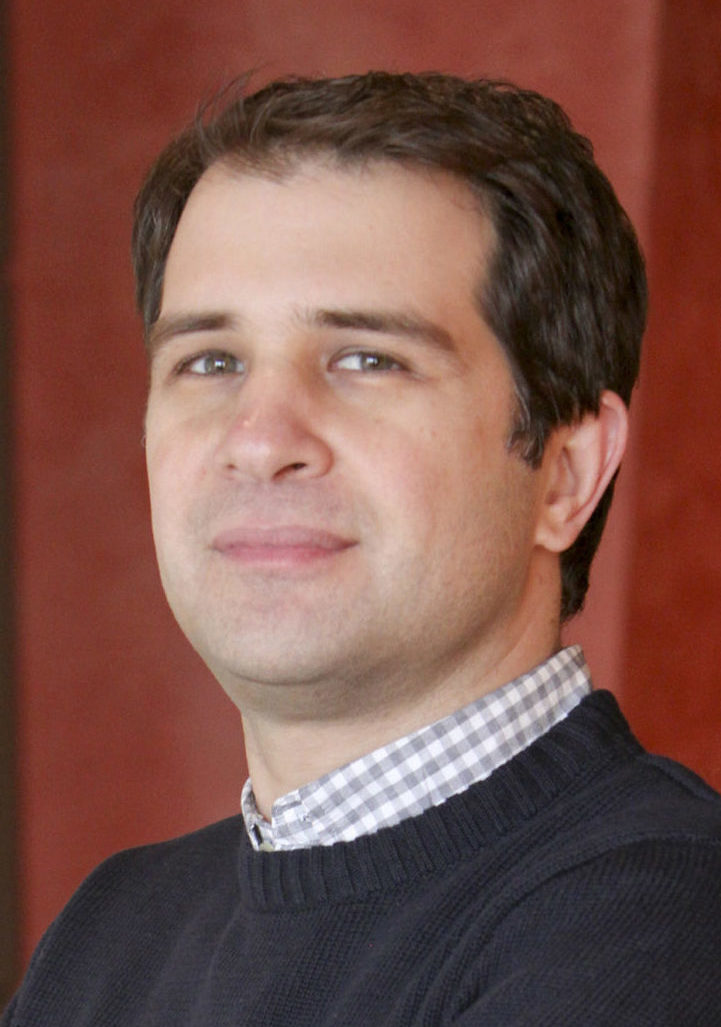 Amir Lotfi, LEED AP BD+C, is an associate at the global architecture, design, and planning firm CallisonRTKL in the Seattle, Washington office. Lofti specializes in the mixed-use and tall building markets and has worked on projects around the world. He can be reached at amir.lotfi@callisonrtkl.com.
For more on engineered wood innovations, read the article, "Cross-laminated Timber: New Projects Show How the Material is Fulfilling 'Tall' Orders," by Kenneth E. Bland, PE. The piece appeared in the February 2017 issue of The Construction Specifier.