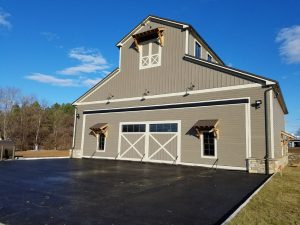 A privately owned helicopter hangar in rural Purcellville, Virginia, won its contractor Fuog/InterBuild the 2017 Building of the Year award from the National Frame Building Association (NFBA).
Owner Chuck Kuhn worked with Fuog/InterBuild to design the post-fame, barn-style hangar featuring a hydraulic, one-piece 17 x 5 m (55 x 16 ft) designer door. The fiber cement exterior cladding covering the hydraulic door has a faux porch and sliding door lock. A stronger lift system was incorporated for the additional 3220 kg (7100 lb) of wood cladding on the door. The interior of the door is clad with trimmed out metal panel. Four decorative tinted windows—two with awnings—make the hangar door stand out even more.
Other features of the hangar include an interior finish of board-and-batten siding walls. The vaulted ceiling has a 22 x 152-mm (1 x 6-in.) tongue-and-groove woodwork. A high loft with four windows provides daylighting into the hangar, which hosts offices for the pilot and in-flight manager.
"I think the quality of construction of the hydraulic door is wonderful. It was also easy to install," said Garland LaRue, project manager for Fuog/InterBuild.