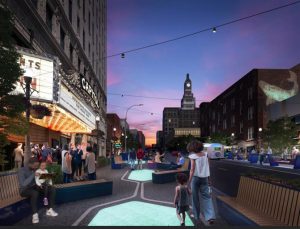 Offering a model for energizing small-city downtowns across the United States, a new master plan for Davenport, Iowa, is attracting attention from state and federal leaders drawn to its ideas for stemming brain drain and boosting livability, diversity, and urban vitality.
The master plan was unanimously adopted by the city leaders last week.
The new study, Davenport 2030: A Resilient City, was commissioned "to create a bold vision for how we want to see our downtown grow over the next 10 years, specifically focused on economic development, placemaking, how to drive more investment, and ultimately win over the next generation," according to the nonprofit Downtown Davenport Partnership (DDP).
DDP, a division of the Quad Cities Chamber of Commerce, is focused on the strategic growth and beautification of the historic downtown Davenport.  As administrators of the downtown Self Supporting Municipal Improvement District (SSMID), DDP provides leadership and advocacy for downtown economic development, planning, complete streets and clean-and-safe initiatives, events, marketing, and cultural vitality.
Central to the plan is flood protection for the riverfront municipality, as well as ways to nurture its inclusive, unconventional profile among Midwestern locations, appealing to entrepreneurs and artists alike. Part of the Quad Cities metro area of Iowa and Illinois on the banks of the Mississippi River, Davenport has dealt with increasingly frequent flooding in recent years, even as its economy and population have grown.
The new master plan would build on Davenport's downtown revitalization wins over recent years, which has drawn on music history, ag-tech finance companies, and the Figge Art Museum by David Chipperfield, among other recent wins. The city has been cited for livability, affordability, and attractiveness, which the new master plan aims to improve further. New ideas in the master plan, reported in a recent Quad-City Times article, include:
programs addressing racial and economic inequities;
support for Black-owned and women-owned businesses;
more residential development to anchor downtown's growth in a growing loft district;
new arts and entertainment offerings downtown; and
an outdoor courtyard or pedestrian way for outdoor films and music, markets, food trucks and public murals, and outdoor dining.
Behind the master plan is the DDP, led by executive director Kyle Carter, and the firm WXY Studio. SB Friedman provided input on market analysis and economic incentives, and Sam Schwartz Engineering contributed mobility and traffic engineering studies. During the study, the city of Davenport hired an engineering firm, HR Green, to conduct flood mitigation assessments.
With transportation impacts and resiliency, the Davenport plan is seen as an ideal model for federal programs stimulating growth in small U.S. cities in every state.