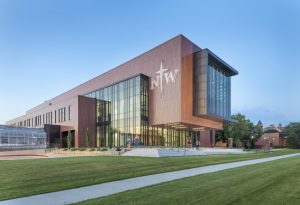 The DeWitt Family Science Center, Orange City, Iowa, is an eco-friendly and state-of-the-art facility that creates a grand entrance to the Northwestern College campus. It serves the health science programs including biology, chemistry, and the now on-campus nursing department that was previously housed in a nearby hospital. Coated metal was selected for the building exterior to match Northwestern's brick-tone buildings and create a modern touch to set the tone for the future.
Throughout the 5667-m2 (61,000-sf), three-story building are classrooms, research labs, human patient simulators, faculty offices, and an 89-m2 (960-sf) greenhouse. It is equipped with a DNA sequencer, making Northwestern one of only two institutions in Iowa with the scientific instrument. The facility includes dedicated space for collaborative student-faculty research and provides students of biology, chemistry, or nursing with advanced facilities to match the science education and career preparation Northwestern is known for.
Northwestern College utilized CMBA Architects, the architect of record, and HGA, as design architect, to bring the Dewitt Family Science Center to fruition.
When choosing the material used on the exterior, the architects kept in mind most of Northwestern's buildings are brick. However, the science center was designed to be a modern facility, setting the tone for Northwestern's future. In addition to this, the building's main focal feature is a cantilever, which provides views of the campus, and called for a low-weight material. Thus, coated metal was chosen.
The building is brought to life with flat lock panels. The panels were coated in three custom hues in 70 percent polyvinylidene fluoride (PVDF) coil coating, and its glaze-in infill panels were coated in a champagne metallic color. The colors were selected to create a cohesive look with the brick tones found in other buildings on Northwestern's campus. The panels were wrapped around one another and applied in a randomized pattern to add depth to the long expanses of the façade.
"A critical and impressive part of what makes the building is the installation of the panels. Local installer, Interstate Mechanical Corp., has excellent craftsmanship. We are so pleased to have worked with them on this project," said Amy Douma, AIA, LEED AP, design principal, HGA.
The custom colors were chosen based on their ability to blend with the color of brick as well as offering a solution that was easy on the budget. In addition, the coatings provide resistance and durability to the different weather conditions of Iowa. The finish will uphold its integrity for years to come.
"The building's color palette is chosen as a nod to the brick buildings on campus, but with a modern approach. The way the finish morphs throughout the day, depending on sunlight, is something we are able to step back and truly appreciate," said Douma.