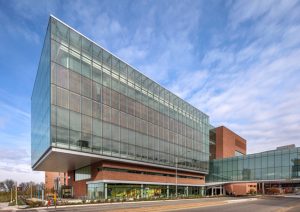 At the University of Kansas (KU) Medical Center Health Education Building (HEB), an interdisciplinary, multipurpose academic facility in Kansas City, Kansas, solar control, low-emissivity (low-e), and low-iron glass are key components of the structure's design.
Designed through a partnership between Helix Architecture + Design and CO Architects, the five-story, 15,886-m2 (171,000-sf) facility creates an 'educational zone,' serving as the primary teaching facility to support inter-professional learning for the schools of medicine, nursing, and health.
Balancing the use of glass, metal, and brick to create an iconic presence on campus, the building features a four-story glass 'lantern' box design glazed with high-performance glass. Flexible learning studios and state-of-the-art clinical skills labs 'float' within the box to show off the core of the building's curriculum.
A 76-m (250-ft) long bridge featuring ultra-transparent glass passes through the center of the structure and connects it to adjacent buildings, providing 557 m2 (6000 sf) of lounge, meeting, and student-activity space. The clarity of the glass met the architects' design requirements for transparency, connectivity, and identity.
A three-story skylight system that allows ventilation between floors is supplemented by an energy-efficient glass configuration, featuring triple-silver-coated low‑e glass, which limits heat gain while enhancing occupant comfort. A large cantilevered glass 'cube' highlights the medical simulation and clinical skills floors as the 'heart' of the building. Decorative wooden slats encase the inside of the third and fourth floors, folding in to form a 'rib cage.'
HEB supplants aging infrastructure on the medical school and KU Hospital campus. The project design also accommodates a 25 percent increase in class sizes to help meet the growing demand for healthcare professionals.
With center-of-glass visible light transmittance (VLT) of 64 percent and a solar heat gain coefficient (SHGC) of 0.27 in a standard 25-mm (1-in.) insulating glass unit (IGU), triple-silver-coated low‑e glass helped deliver natural daylight, provided exterior views, and fostered a sense of openness to the education process that the architect was seeking.