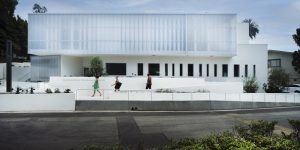 Designed by AUX Architecture, the new Glorya Kaufman Performing Arts Center (GKPAC) at the Vista Del Mar Child and Family Services campus in Los Angeles welcomes students of all abilities as of May.
EXTECH/Exterior Technologies engineered its polycarbonate translucent wall system to meet the center's modern requirements. Inspired by the Martha Graham dance piece, "Lamentation," inside and outside screens create a sense of compression and expansion throughout the new center.
"By wrapping the existing theater with a translucent addition, the building is evolved into a glowing new center for the campus," said AUX Architecture's founding partner and design director, Brian Wickersham.
EXTECH's lightwall system envelops GKPAC's 980-m2 (10,550-sq-ft) multi-use performing arts facility within 500-mm (20-in.) of opal color, structural cellular polycarbonate panels. At night, the walls are illuminated from the interior and add an interplay of light and shadow.
During the day, the system maximizes sunlight for natural lighting through the center.
In addition to the renovated theater, the project added 544 m2 (5850 sq-ft) for a lobby, box office and dressing rooms; production support, stage craft and rehearsal spaces, and classrooms.
Capitalizing on naturally available daylight also allows the center to reduce its electrical use, associated energy costs, and emissions. The lightwall system's translucent panels and clear anodized aluminum framing require minimal maintenance, reducing future material production for repairs. At the end of their useful life on the center, both the polycarbonate and aluminum can be recycled.