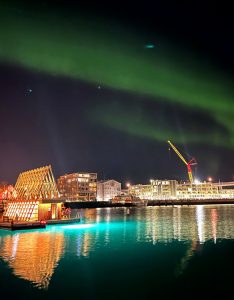 Located in the middle of Tromsø Harbour in Norway, a luxury floating sauna offers visitors a chance to relax and enjoy unique views of the Northern Lights. Elegantly adorning the coastline of Tromsø, the architects and designers of the project selected wood  for the exterior façade, and both the roof and ocean terrace decking.
Handcrafted furniture company Ekte, sauna specialists Pust, and Skapa Architects worked through various challenges over the past year to create the floating masterpiece, which is seen by locals and visitors as a space to breathe and disconnect from the world whilst connecting with each other.
Over 2000 m (6562 ft) of treated wood with strong grain and natural knots was used for the external cladding and decks. Wood was a suitable choice for this project as it complements both the structural design and the Arctic surroundings of North Norway, whilst requiring little maintenance. Additionally, the treated wood will develop a silver-gray patina as it ages, helping the sauna achieve its goal of displaying a weathered aesthetic over time, without losing dimensional strength.
"The public has really embraced the sauna and made it a part of their daily lives. People come at all hours of the day: either for a morning swim, a lunchtime bath, or a night-time session as late as10 p.m.," said Erik Stange Ankre at Pust. "The supreme finish provided by Ekte has really made the sauna feel like a little bit of everyday luxury for the people of Tromsø, and of course, the beautiful wood makes it stand out as well."