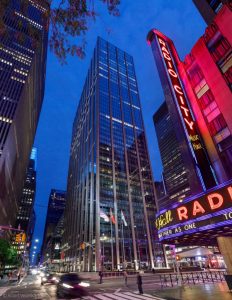 The iconic building which served as the setting of the hit television show, Mad Men, now has a new place in the sun.
Owner-developer Rockefeller Group contracted architects from the Pei Cobb Freed team to reposition Manhattan's famous Time & Life Building and modernize it with a new energy-saving facade.
Despite its prime time fame, the aging tower struggled to compete in New York's commercial real estate market. With an inefficient building envelope, outdated mechanical systems, and a timeworn lobby, it was no match for recently built, state-of-the-art towers. Rather than demolish the building, Rockefeller Group decided to revamp its structure in a new spot with new materials.
The ensuing repositioning of the building—now known as 1271 Avenue of the Americas—brought it from vacant to 99 percent leased, even before construction was complete.
The most significant aspect of the project proved to be the facade re-retrofit. The architectural team inverted the relationship of vision glass to spandrel glass to increase vision area and daylighting by more than 50 percent, while retaining the essential proportions of the original facade.
Overall, the building's energy use has dropped by more than 40 percent, making it an example of the potential for the past century's structures to be part of a more sustainable future.