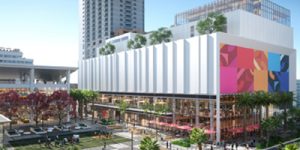 The Miami Worldcenter mixed-use development has reached its most recent milestone, with the completion of Block H. This new section adds to the retail and parking components of the 10.9-ha (27-acre) project in the heart of Downtown Miami.
As the largest private, urban development underway in Florida, Miami Worldcenter will feature a diverse mix of residential, commercial, and hospitality uses complemented by a total of 27,870 m2 (300,000 sf) of retail, restaurant, and entertainment space. The project is being developed by Miami Worldcenter Associates, led by principal Art Falcone and managing partner Nitin Motwani, in partnership with CIM Group.
Block H is composed of 4645 m2 (50,000 sf) of prime street-level and rooftop retail space, along with a 922-space public parking garage. A portion of the structure's rooftop is also home to a resort-style amenity deck serving Bezel Miami, a newly delivered 43-story luxury rental tower developed by ZOM Living.
Approximately 16,350 m2 (176,000 sf) of retail space has now been completed for the project, with another 11,520 m2 (124,000 sf) remaining under construction and slated to deliver by the end of the year. The development's lineup of recently announced tenants includes Chicago's Maple & Ash and etta restaurants, Miami chef Michael Beltran's Brasserie Laurel and El Vecino, Bowlero, Sephora, and Lucid Motors.