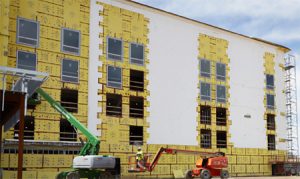 An integrated water-resistive and air barrier (WRB/AB) system helped save time and money for a Michigan project designed by Campbell & Associates.
As part of an expansion plan, the Hilton Homewood Suites wanted to extend its space to meet the demand for more lodging options. The 6968-m2 (75,000-sf) residential-style hotel is six stories and houses 139 rooms.
Michigan-based general contractors (GCs), Gordon Construction, undertook the project overseeing the installation of 5470 m2 (58,880 sf) of sheathing during winter months. The anticipation of harsh, frigid weather represented a challenge.
A traditional exterior wall assembly that calls for gypsum sheathing with a fluid-applied membrane can be difficult to install in extreme temperatures, since the viscosity of the fluid can fluctuate. This affects the minimum mil thickness required as it is being spread over panel after panel of fiberglass mat sheathing—a process often requiring several passes around the entire complex. This is a cause-and-effect leading to squandered time and money, and can delay a project's competition.
The WRB/AB systems are integrated within its gypsum core into the fiberglass mat. This eliminates the need for applying an added WRB/AB, such as a building wrap, peel-and-stick, or a fluid-applied membrane over the exterior gypsum sheathing board. This barrier only required sealing of the joints, fasteners, openings, penetrations, and transitions, which is accomplished using a liquid flashing membrane sealing rough openings of structured walls. The process required only one pass around the building. This allowed the installers to hit the joints and screw points when covering a large area. They were able to do it in a few days rather than having to go back and install a separate product altogether.