Milan-based multi-disciplinary architecture and design firm Antonio Citterio Patricia Viel (ACPV) has revealed designs for the restyling of the historic headquarters of Italian energy company Enel in Rome, Italy.
The intervention by ACPV reimagines a building from the 1960s, rewriting it with completely different functional principles that realign it with the work needs of tomorrow—having corporate welfare, urban regeneration, innovation, and sustainability at the heart of the project.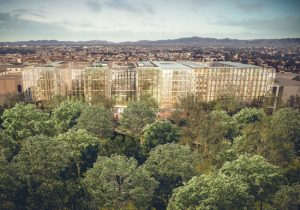 The redevelopment covers a total area of 80,000 m2 (861,113 sf) with a project designed to increase well-being through modern and comfortable workspaces. The lighting and air-conditioning systems are expected to provide the highest levels of comfort. Work environments alternate with indoor and outdoor green spaces. A gym will also be added to the existing facilities that include a kindergarten, dining areas, and an auditorium.
ACPV's intervention brings to life a "building-city," composed of multiple towers with glass façades.
Biophilic design and sustainability are key goals of this project. Building information modeling (BIM) of the design allowed for a more efficient and sustainable management of the construction site and the building.
"The project proposed by Enel and designed by our practice facilitates the redesign of a building from the Sixties, reimagining it according to completely new functional principles in line with emerging professional requirements," said architect Patricia Viel, co-founder of ACPV. "Enel is thus achieving two objectives: regenerating the building, and renewing its relationship with the city."
The building's sustainability and comfort will be assessed by external international bodies, with the aim of achieving the Leadership in Energy and Environmental Design (LEED) and WELL certifications at Gold level.