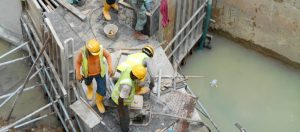 The California Natural Resources Agency awarded a total of $87.6 million to 26 projects that employ a mix of traditional and green infrastructure solutions to alleviate urban flooding.
The City of Manhattan Beach has been awarded $5 million for its 28th street stormwater infiltration project—the city's project to capture stormwater runoff. Currently, stormwater outflowing at the beach can cause backflow and localized flooding during storm events.
This project will divert and capture runoff generated within 60 percent of the city's boundaries to prevent pollutants, trash, and debris from reaching the beach and Santa Monica Bay.
The Nature Conservancy (TNC) has been awarded $1.2 million for the LA river urban flood protection and habitat enhancement project. In partnership with California State Parks, TNC is developing a stormwater management and habitat enhancement project along the river in northeast Los Angeles.
The project will improve water quality, enhance habitat and biodiversity, increase public access to the river, and provide educational opportunities for visitors.
The other winning projects throughout southern California's counties include:
The City of Calipatria was awarded $3.9 million for its east side stormwater drainage improvement project
The County of Kern was awarded $3.5 million for the Caliente Creek urban flood protection project
The City of Torrance was awarded $867,000 for the Regina Alley storm drain improvements
Amigos de los Rios was awarded $858,000 for the emerald necklace Monrovia unified school district natural infrastructure project
The trust for public land was awarded $6 million for the banning ranch acquisition project
The city of Santa Ana was awarded $3.8 million for its downtown flood reduction and stormwater infiltration project
The city of Indio was awarded $4.1 million for its civic center storm drain system project
The trust for public land was awarded $4M for the Bel Air greens floodplain protection project
California Trout was awarded $6M for the Santa Margarita River bridge replacement for flood protection
City of Carpinteria was awarded $366,000 for the east via real stormwater project
The trust for public land was awarded $3M to for the Ventura River petrochem acquisition project