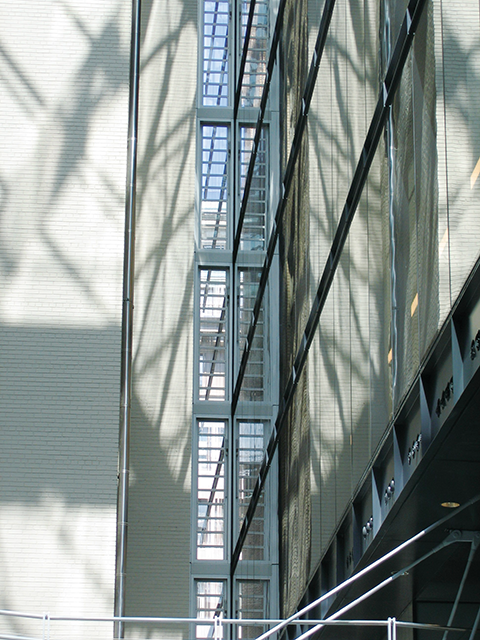 As previously discussed, one of the benefits of natural ventilation, either actuated or integrated, can be lower initial construction costs. Such is undeniably the case when natural ventilation is the only choice, as significant savings can be had by avoiding mechanical systems entirely. However, there are many applications and geographies where the use of an only-natural ventilation system is impractical, even for limited periods of time. Hot, hazy, and humid days, for example, may not be conducive to occupant comfort in a naturally ventilated building. An attractive solution to this problem can be a mixed-mode system or one employing both mechanical and natural ventilation.
In a mixed-mode system, mechanical ventilation assemblies can be deployed when required by environmental conditions. As a mixed-mode system requires investments to be made in both mechanical equipment and natural ventilation, it can require a slightly higher up-front cost. However, this additional cost is easily justified by the savings in energy and operational costs over time. Energy expenditures are minimized when mechanical systems are not running and the natural ventilation system is engaged. Depending on environmental conditions, this can be the lion's share of the cooling season.
Besides the obvious benefit of lower energy consumption, mechanical equipment requirements are minimized when used in conjunction with natural ventilators, allowing for the use of systems that are less costly to purchase and maintain.
A particularly good example of mixed-mode ventilation is nighttime purging. In this instance, mechanical ventilation systems provide climate control during the business day and the natural ventilation system is engaged in the evening hours. In this manner, the warm, stale interior air is exhausted at night and replaced with fresh, cool air to start the next business day.
Conclusion
Whether accomplished by actuated or integrated systems, or used exclusively or as part of a mixed-mode system, natural ventilation can help make buildings more comfortable, healthy, safe, environmentally sustainable, and cost-effective. Prominently used in Europe, natural ventilation is now making inroads into North American buildings as design professionals are becoming more conscious of the health and environmental benefits.
As with most things in the construction world, it is important for the design team to understand the options available to them for climate control and the strengths and weaknesses of each choice. No single option is correct for every building application, but awareness of the features and benefits, along with an understanding of a building's environmental conditions, are the key elements to a successful implementation of a climate control system.
Michael P. Toohey is the director of architectural product sales and marketing for the Bilco Company. He has more than 25 years of experience in the construction industry and has dealt with specialty access products for more than two decades. Toohey is a member of the National Roofing Contractors Association (NCRA). He can be contacted by e-mail at miket@bilco.com.