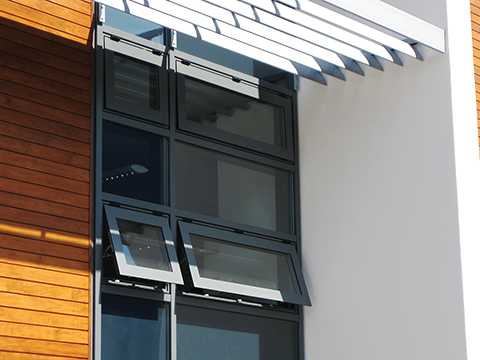 Adding natural ventilation to buildings
Naturally ventilating a room is as simple as opening a window and having a secondary opening allowing internal air to escape. Things do get a little more complicated when more rooms, stories, and building automation systems (BAS) are added to the equation, but the principle remains the same. The question is how are the desired indoor comfort levels achieved efficiently, effectively, and safely?
There are two basic methods to provide natural ventilation in a building: actuated window systems and integrated ventilators. Actuated systems employ off-the-shelf linear or chain-drive-type actuators retrofitted to an existing opening. An integrated ventilator, as the name implies, consists of an operable opening with a self-contained actuator. Each of these methods presents a unique set of advantages and disadvantages.
The primary advantages of the actuated window approach are cost and flexibility. Off-the-shelf actuators tend to be relatively inexpensive and can easily be added to existing windows, making them well-suited for retrofit applications. However, while inexpensive actuators are quite capable of performing their function, poor product selection can lead to an incompatibility between the window and the actuator which can result in installation and operational problems. For example, the actuator may not fit properly on the window or may be under- or oversized for an opening's size and weight. This will eventually lead to substandard performance or even failure. Further, standard windows are not typically designed for continuous opening and closing, so seals and moving parts such as hinges will eventually wear. Actuated systems are generally field-fabricated with various components from different manufacturers. This means it is unlikely the assembly has ever been tested or certified to European Standards (EN).
In the United States, Underwriters Laboratories (UL) 793, Automatically Operated Roof Vents for Smoke and Heat, is the primary test standard associated with mechanical smoke ventilation, but this only pertains to horizontally mounted roof top products. There are currently no smoke vent standards associated with products that are installed vertically, likely due to domestic construction practices, as well as the products historically available in the U.S. market.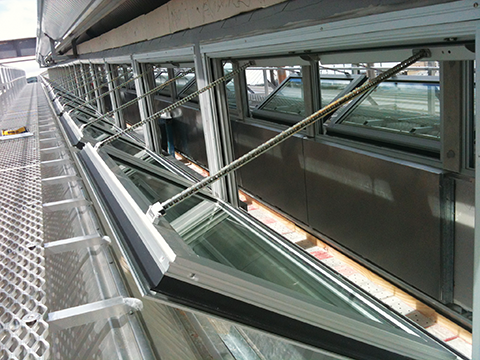 Unlike actuated systems, integrated ventilators are designed and manufactured specifically to provide natural ventilation and smoke control. As such, materials are selected and components are manufactured to accomplish specific operating life objectives and are tested accordingly, also to EN standards. Integrated ventilators are also built to provide a level of precise and controlled ventilation not often achievable by field-fabricated solutions. Control options are available to adjust indoor climate based on time, temperature, and humidity levels. This level of automated control allows natural ventilators to be easily incorporated into a building's climate control system.
In addition to function, integrated ventilators also provide more design options for architects and construction professionals. Products are available for glazed building façades to add a new dimension to a design, and can be supplied in numerous styles and colors for construction applications. While not as well-suited for retrofit applications as actuated systems, integrated ventilators can generally be installed in existing buildings with little planning. However, it is best to work with a product manufacturer early on in the process to develop a proper solution.
Natural or mechanical, or natural and mechanical?
Natural ventilation is self-compensating—ventilation is actually enhanced when, for example, warmer, more buoyant air and wind moves across a roof vent, generating negative pressure and effectively vacuuming the warm air out. However, achieving the desired indoor climate does rely on uncontrollable variables such as wind speed, direction, and outside temperature. These factors must be carefully considered and discussed with the manufacturer when designing a proper natural ventilation system.
Mechanical ventilation uses fans to move air, typically through ductwork. While the benefits of natural ventilation are the downsides to mechanical ventilation—increased power consumption, higher operating costs, noise, and high-maintenance requirements—properly operating mechanical ventilation provides exceptional control of internal conditions such as temperature and humidity levels regardless of outdoor conditions.
Unlike natural ventilation, mechanical ventilation is set-point-established rather than self-compensating. It will only provide the designed flow rate, which will diminish if the system is not properly maintained. Additionally, while well-designed mechanical systems can help prevent SBS, dirty filters, impinged ductwork, or poor maintenance can have a negative impact on occupant health.