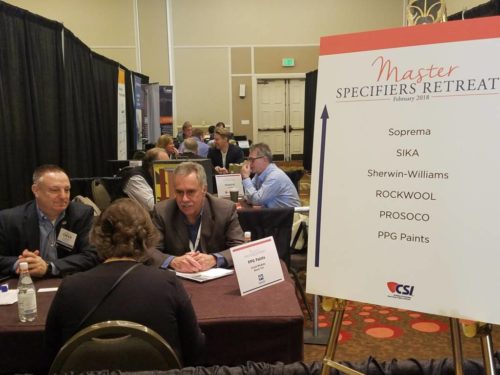 CSI is seeking applications from specifiers, architects, and product recommendation professionals interested in attending its Master Specifier Retreat (MSR) in Leesburg, Virginia, from June 5 to 8. Held bi-annually, the exclusive event brings together senior specifiers and product selection influencers from across the country for an experience focused on education, group networking, and one-on-one meetings.
The event is invitation-only, based on completion of an online application. Selection criteria includes:
company background and qualifications;
description of current projects;
dollar amount and type of recent specifications; and
specifications written in relation to participating companies.
Selection is not influenced by time spent in the industry, geographic proximity to the event, or leadership in CSI. However, product manufacturers are interested in making new connections, so multiple attendances at past MSR events may influence selection.
Earlier this month, CSI hosted its February 2018 MSR in Amelia Island, Florida, with an engaged and enthusiastic group of attendees and sponsors. CSI received plenty of positive feedback about the quality of the knowledge exchange meetings. Check out the hashtag #CSIMSR on social media to read feedback and view pictures of the event.
For more information, click here.