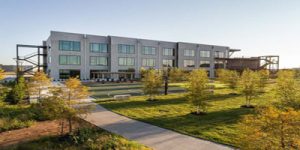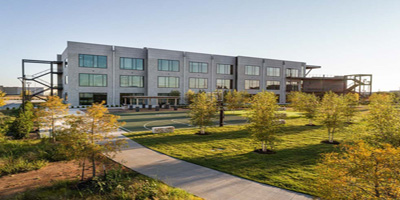 CORE Construction (CORE) finalized work on company headquarters in Frisco, Texas. It has been designed to reflect CORE's construction services and showcase its commitment to innovation and building community.
The exterior of the three-story building is defined by an exposed steel structure and a monumental external stairway, which allows a path between inside and out, weaving together a thread of gathering spaces.
With an eye to the materials of nearby structures, the exterior is made of concrete tilt wall. The additional use of brick serves as a reference to the origin of the company, founded in 1937 by mason Otto Baum. A two-level volume serves as the CORE Training Facility, featuring large conference rooms, an auditorium, and a rooftop lounge terrace.
The building is located near a pond on the 2.02 ha (5 acre) site, allowing a connection with the park-like atmosphere. The site also includes an outdoor social area, putting green, and basketball court, engaging recreational spaces amidst the native grasses and trees.
Additionally, the building presents a commitment to sustainability with geothermal mechanical systems and solar panels. A roof overhang protects large, glazed portions spanning across the façade from the sun, while taking advantage of the expansive view over the property. Steel shading devices articulate smaller windows in the adjacent concrete walls and track the change of natural light throughout the day.
Toward the interior, the offices are defined by steel and glass walls. Glass and steel stairs and a double-height entry lobby establish a connection across the three levels of the building.
Since its completion in December 2020, the building has been embraced by the construction industry and Frisco community, hosting events for local entities and offering a welcoming meeting place.