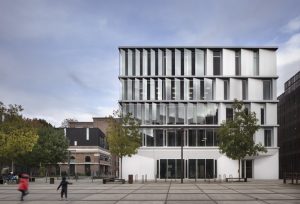 Lille, France, welcomes the newly opened Lucio office building, a 1465 m2 (15,769 sf) project that utilizes a double skin design that allows transparency, but still protects inhabitants from the sun.
Barbarito Bancel architects created a composition of facades, a vertical glass louver facade positioned on a concrete base. This plane plays with the fragmented reflections of its surrounding, made of brick, concrete and birch.
The project site opens to the "Cour de Bretagne", the large entry plaza of the new EuraTechnologies economic hub and faces "Le Blan-Lafont."
For the main facades, the project outlines the idea of a double skin that creates a transparent curtain wall while protecting from the sunrays. The secondary southeast and northeast facades are composed of single walls and alternate surfaces of opaque polished aluminium and glass surfaces that follow the overall geometry of the inclined glass sunscreens by prolonging the gradual and increasing change of rhythm of the inclined panels.
The main entrance of the building opens to the "Cour de Bretagne" square, the main public space of the district. It fits into the depth of the concrete base and reveals a contemporary entrance lobby, with the use of concrete and wood.
The building core is rationally positioned to the south to protect the main workspaces from sunrays. The internal layout of the building comprising of lightened concrete slabs combined with a cooling-ventilation-heating system, built into the floor complex, which makes it possible to create a fully modular platform at each level, free of columns and networks, enables the creation of a fully modular platform at each level that is free of columns and network cables.