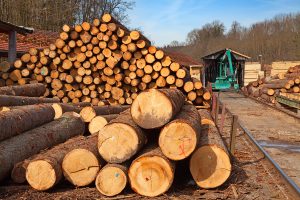 The U.S. Green Building Council (USGBC) has launched a new Leadership in Energy and Environmental Design (LEED) pilot credit designed to increase transparency in timber supply chains and reduce the risk of illegally harvested wood entering the buildings industry. The Timber Traceability credit is designed to up efforts to eliminate the use of illegal wood in buildings.
"The Timber Traceability pilot credit continues USGBC's work to leverage LEED's market transformation potential in areas critically important to the quality of life of all people on Earth," said Mahesh Ramanujam, president of USGBC. "Forests play an incredibly important part of a healthy functioning planet and this pilot credit enables LEED, which typically rewards performance that demonstrates leadership, to catalyze market activity focused on curbing illegal activity in the buildings industry."
The development of the pilot credit was led by a team of timber legality, forestry, and environmental representatives from organizations recognized for leading the fight against illegal logging, including the Environmental Investigation Agency (EIA) and World Wildlife Fund (WWF).
A statement released by USGBC says, transparency regarding the origin of timber, combined with the use of modern wood identification technologies, can reduce the risk of illegal timber entering the supply chain. Drawing on successful anti-counterfeiting initiatives in fashion and the global honey trade, experts believe DNA, mass spectrometry, and stable isotope analysis—technologies encouraged by this pilot credit—can help wood to be traced from end product back to its forest origin and make it significantly more difficult to falsify documentation about where the timber was harvested.
The new pilot credit is designed to align with and support existing LEED credits and alternative compliance paths (ACPs) dealing with wood as well as other widely accepted approaches to the exercise of due care.
Meanwhile, Adidas and Knauf Insulation have won the 2019 Greenbuild Europe Leadership Awards. The awards recognize outstanding individuals and organizations at the forefront of the green building movement.
"Both Adidas and Knauf have demonstrated courage and purposeful intent – tirelessly championing green building, pushing to transform the environment and helping to improve the quality of life for people in their communities," said Ramanujam.
Adidas was recognized for its contributions to protecting the environment including the company's commitment to LEED and reducing its carbon footprint. Knauf Insulation was honored for providing innovative solutions that both reduce energy consumption and save resources.