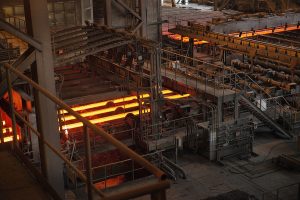 Commercial Metals Company (CMC) will construct another state-of-the-art micro mill to serve the Northeast, Mid-Atlantic, and Midwestern United States.
Currently in the site selection process, the new facility is designed to complement CMC's existing operational footprint. Its proposed technology is also lower in both energy consumption and greenhouse gas emissions compared to traditional steelmaking processes.
"This is an exciting new investment for CMC and our customers, said Barbara R. Smith, the company's president and chief executive officer. "The new micro mill will fortify our position in the large construction markets within the region and optimize CMC's existing Eastern U.S. operational footprint through enhanced production flexibility, improved service capabilities, and logistical efficiencies."
"The recent enactment of the Infrastructure Investment and Jobs Act should provide an additional tailwind to what was already an attractive expected return on investment for the project. We anticipate the legislation will stimulate substantial incremental demand for construction steel, particularly in the targeted geographies where core infrastructure is among the oldest in the U.S."
Following receipt of state and local incentives, along with other necessary approvals, construction of the planned mill is expected to take roughly two years to complete.