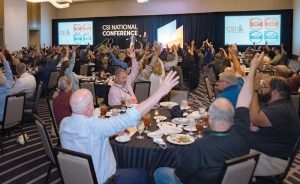 The 2022 CSI National Conference is Coming to Denver in mid-October
Mark your calendars for the 2022 CSI National Conference which will take place Oct. 13-14 at the Hyatt Regency Hotel in downtown Denver. Save the date to connect live and in-person with your colleagues. Preconference workshops will be held Wednesday Oct. 10-12.
The CSI National Conference marked a rewarding return to in-person meetings in Nashville, Tennessee, last year, with an event marked by sold-out attendance, the unveiling of a new brand and vision strategy for CSI, and an illuminating series of keynote speakers and workshops focused on the unlimited potential the AECO (architecture, engineering, construction, and owner) industry is poised to harness.
The conference's groundbreaking lineup of keynote speakers Curtis Moody, Nancy Novak, and Damon Hernandez, outlined how breaking barriers in diversity and the built environment, leveraging data to inform the next generation, and looking to the future of cutting-edge technology will inform the construction industry for years to come. Read their interviews and stay tuned for more exciting updates on the 2022 CSI National Conference, all at CSIResources.org
Expand Your Expertise with the CSI Learning Library
The CSI Learning Library is a key resource for all AECO (architecture, engineering, construction, and owner) professionals, featuring several courses to expand your knowledge and expertise.

Learn what you need to when you need to. The library contains various course series on critical areas, including:
Specs 101 Series;
CDT Learning Unit Series;
CCS Learning Unit Series; and
CCCA Learning Unit Series.
It also features a number of individual courses for a customizable learning experience. Some of the most popular include:
High Performance Building Envelops with Lower Embodied Carbon;
Total Steel Project Performance: Improving Project Cost and Delivery;
Understanding Light Management When Specifying Window Fabric and Shade Systems for Occupant Wellness and LEED Credits;
Raising the Bar of Sustainability in Div. 12 Solar Shading;
FEVE Architectural Coatings: High Performance Coatings for Expansive, Sustainable Design; and
What Did I Miss? How to Properly Specify an Air
Barrier System.
Create a log-in to enjoy newly released courses featuring excerpts from the CSI National Conference:
Perspective on Design, Firm Ownership, and Breaking Boundaries in the AECO Industry;
Leveraging Data to Inform the Next Generation of the Construction Industry;
People Who Write Specifications: Training and Transitions;
Project Delivery Excellence Through Planning;
Where are the Next Specifiers; and
The Marriage of BIM, Keynotes, Specifications, and Technology.
Explore these courses and more at www.pathlms.com/csi/courses.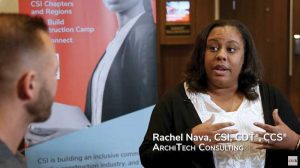 How CSI Elevates Knowledge with Rachel Nava
In a new video from the CSI Studio, newly minted Certified Construction Specifier (CCS®), Rachel Nava, CDT,® CCS,® of ArchiTech Consulting Inc. sits down to talk about why she pursued CSI certifications and how CSI "Elevates Knowledge."
 What brought you into the organization and made you engage?
It was the person I worked with at the time. She believed in what CSI is and what we can do as an organization. And she's like, you have to be a part of it. So, I joined.
I do remember when I went to my very first meeting, there were a hundred people who all seem to just welcome you. They want to help you. The sharing of knowledge is I think what makes this organization so valuable. As an organization, our desire is to bring people in and elevate their knowledge. We are one unit that works to bring us all up together. Listen to Nava's "Insights on the Journey to Certification" story on the CSI Studio here: www.youtube.com/watch?v=krfX2dffGrU.