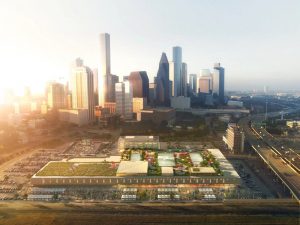 OMA has revealed its designs for POST Houston. The plan is to transform a former postal service facility in downtown Houston, Texas, to a mixed-use cultural anchor.
The adaptive-reuse project sees the redevelopment of the historic Barbara Jordan Post. The more than 51,097-m2 (550,000-sf) building was previously used by the federal government from 1936 to 2014.
Designed by OMA partner Jason Long, the facility will house site-specific art installations by acclaimed artists, one of the world's largest rooftop parks and farms called Skylawn, a concert venue, and many other retail and office concepts including restaurants, bars, an international market hall, and flexible co-working space.
The 19,510-m2 (210,000-sf) Skylawn will feature a sustainable organic farm, designed by Chicago-based landscape architects Hoerr Schaudt. Skylawn will present 360-degree views of the city's downtown skyline and will include multiple dining and event venues, recreation and open spaces, and a stage for events.
The building design engages the city at multiple levels, from the Buffalo Bayou river and streetscape to the warehouse and its roof. The warehouse will be punctured vertically with skylights and atriums and raked horizontally with new passages to establish thoroughfares of connected activities.
Three atriums excavated from the existing structural grid will bring light into the building. Each atrium will be covered with an ethylene tetrafluoroethylene (ETFE) roof system and defined by monumental staircases linking the different layers of the building.
The project is expected to be complete in summer 2020.