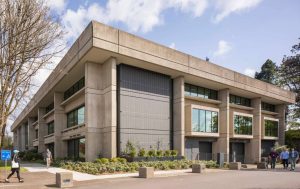 The Salem Public Library's downtown location in Oregon recently underwent a transformation to bring daylight into the center of the fortress-like building and reorganize its spaces for greater community involvement.
The renovation was triggered by the need to bring the Brutalist-style building up to modern standards, to enhance its seismic structural resilience and accessibility, as well as implement life-safety updates. The 8,919-m2 (96,000-sf) concrete structure was built in 1970 and underwent an expansion in 1990. When funding came through for the renovation, the city and library also decided to address other challenges encountered by staff and library visitors.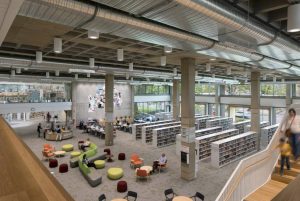 The renovation was led by the architecture and interior design team at Portland-based Hacker Architects. Other project collaborators were Howard S. Wright as the design-build contractor; Ground Workshop as the landscape architect; Westech Engineering as the civil engineer; KPFF as the structural engineer; PAE as the mechanical, plumbing, and electrical engineer; Listen Acoustics as the acoustical engineer; The Felt Hat as the signage/wayfinding consultant; and Code Unlimited as the code consultant.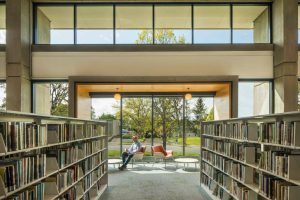 To make the building open to natural light, the team placed new windows and redesigned the entrances. The design also shuffled the library's spaces to group them into staff spaces and public spaces, as well as sections serving different age groups, quiet zones, noisy zones, and high-traffic areas. Staff spaces were consolidated on the lower level for improved functional efficiency, while public spaces were brought to the upper two levels. The youth services had been separated in the past by several floors. However, during the renovation, they were moved to the top level for improved operation. Spaces for teens and children have been added to this level.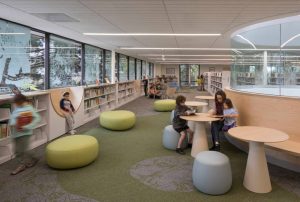 The plaza on the lower level opens to the main entrance, adjacent to a maker space for hands-on learning, along with meeting and conference space and a community room capable of accommodating larger events after regular library hours.