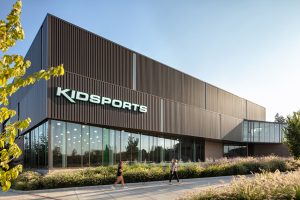 The new Civic Park in Eugene, Oregon, will replace the previous Civic Stadium destroyed by a fire in June 2015.
The stadium design began with a site redevelopment vision by Skylab Architects. Located next to Amazon Creek, the project addresses critical environmental considerations, including the restoration of the site's original watershed ecology.
The first floor features a mix of sports courts and areas for equipment storage, locker rooms, restrooms, and a vending alcove. The second level provides private office spaces, conference rooms, and a break room for coaches.
Materials reclaimed from the original stadium were integrated into the new project, such as the wood used for indoor benches, the reception desk, and the reception/social counter in the upstairs office space. The design also includes pops of color, which are integrated into the project via the metal panel cladding as well as acoustic tile.
A second phase will feature a 2500-seat stadium with an office suite, skybox, press box, locker rooms, storage, and officials' rooms. Concessions and vendor pavilions under the roof at the grandstand concourse level will provide spaces for fans to gather and watch the games.