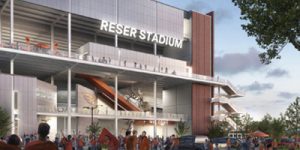 The Reser Stadium expansion project at Oregon State University (OSU) will transform the stadium into a football facility complete with year-round amenities accessible by all students, athletes, faculty, and staff. SRG Partnership, in collaboration with Populous, and design-build partner Hoffman Construction are leading the project.
The west side of the stadium will be entirely rebuilt to feature a 360-degree concourse, a design influenced by Oregon's landscapes. The new concourse is in collegiate sports facilities, flipping the traditional design of a football concourse with all amenities arranged, so fans have an open-air direct view of the field.
Dubbed "Beaver Street" as a homage to the school's mascot, the expanded concourse will serve as crossroads, connecting the south seating bowl and the existing open air north terrace with design details often found in an urban streetscape.
The concourse provides protection from the rain while still honoring the open-air intent. Concession areas are reimagined to have a storefront appearance, evoking feelings of walking along an urban streetscape while also paying homage to the food hall culture popular throughout the Pacific Northwest. Traditional walkup windows have been replaced with fast-casual dining and self-service grab-and-go stores.
The lower level of the west side deck will house the new OSU Welcome Center and serve as the first point-of-contact for prospective/visiting students and their families. The center is vertically connected to the stadium's club spaces, allowing the club to function as a true multi-purpose event space for OSU and the greater Corvallis community. Further enhancements to the game day experience include new locker room facilities for visiting teams and a new press box structure which modernizes in-game and broadcast services.
Contributing to OSU's goal for Reser Stadium to provide year-round programs, an approximately 2973 m2 (32,000 sf) Wellness Clinic addition will be located on the southeast corner of the stadium at a prominent connection point to campus. The new four-story facility will provide whole-student care, including primary care, counseling, and laboratory services.
Project competition is expected for fall 2023.