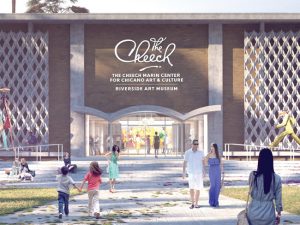 In Riverside, California, local leaders have approved a reimagining of the city's main library for the new Cheech Marin Center for Chicano Art, Culture, and Industry, a project led by architecture firm Page & Turnbull and design firm wHY.
Named after the renowned comedian, actor, and art collector Cheech Marin, the new cultural center will occupy the 1964 building to be reinvented as "the one place worldwide that everybody can go to for all things Chicano art…positioning Riverside as the next great 'art town,'" Marin said. The Riverside Art Museum will run the new cultural venue.
The adaptive reuse of the 5706-m2 (61,420-sf) building will position it to display Cheech Marin's large art collection. The Riverside City Council has committed about $1 million a year for the museum's operations as well as $10.7 million renovation, by Hamel Contracting, according to a report in the The Press-Enterprise.
Cheech Marin has "more than 700 paintings, drawings, photographs, and sculptures" that will become part of the new collection at the Cheech Marin Center, according to reporting by The New York Times.