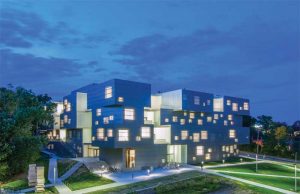 During the last decade, the construction industry has seen an evolution of finishes and applications. This has changed the way metal panels are being designed—they are no longer viewed just as a durable means to enclose a building. This change in perception can be seen in the adoption of a complex metal rainscreen system comprising interlacing patterns to form beautiful, complex façades.
An article in our newest sponsored e-book is case study of the University of Iowa's visual arts building project, which was designed Steven Holl Architects.
The façade was designed to ensure the proper amount of light flows into and out of the structure. This proved to be a critical factor in the building's construction and successful project execution, as it was designed around the multiple centers of light, both inside and out.
Instead of using traditional, full cutouts for window openings, the design called for two of the elevations to be completely wrapped in perforated metal panels passing over the building's windows to create a dancing light effect as the sun moves throughout the day. The metal panels not only allow light in, but also give the façade texture and depth.
This case study appears along with a couple of articles from the pages of The Construction Specifier in "A Steely Response to Construction," a free, downloadable resource. To get your copy in either pdf or digital edition, visit www.constructionspecifier.com/ebook/new-millennium-a-steely-response-to-construction-e-book.