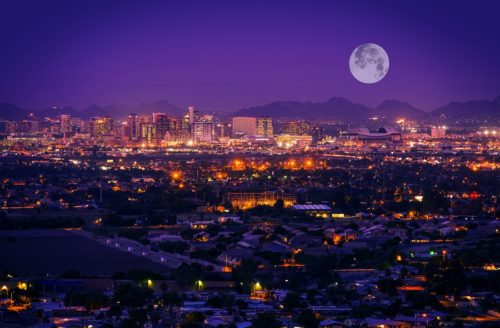 Phoenix, Arizona, has become one of the first cities to achieve Leadership in Energy and Environmental Design (LEED) for Cities Platinum certification under the program.
"Phoenix has earned a national reputation for its leadership on sustainability and this prominent certification validates our incredible progress," says Mayor Greg Stanton. "We have set ambitious goals and Phoenix will continue to take more steps to divert waste, increase water efficiency, and reduce carbon emissions, which benefits us, our environment, and economy."
Introduced in 2016 by U.S. Green Building Council (USGBC), LEED for Cities enables cities to measure and track outcomes from ongoing efforts with the goal of improving sustainability and quality of life. Cities are evaluated on 14 key metrics, including:
energy;
water;
waste;
transportation;
education;
health;
safety;
prosperity; and
equitability.
Phoenix's Platinum certification recognizes the city's commitment to creating a sustainable and resilient built environment. These efforts include reducing greenhouse gas (GHG) emissions and supporting clean energy innovation.
"Phoenix is not only demonstrating its environmental leadership, but also highlighting its commitment to pursuing strategies that will improve the health and wellbeing of its residents," says Mahesh Ramanujam, CEO of USGBC. "The city is setting a standard for what it means to be a high performer and we applaud their efforts and achievements so far."
Last August, Washington D.C. became the first city to achieve LEED for Cities Platinum certification.
To read more about Phoenix's certification, click here.