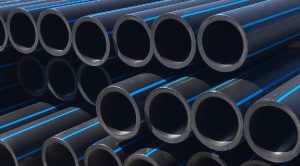 The fifth edition of the updated American Water Works Association (AWWA) C906-21 standard further clarifies the proper use and description of PE4710 high-density polyethylene (HDPE) pressure pipes and fittings.
Some changes to the standard include the rewriting of the section on oxidative resistance (section II.C), along with updating the definitions for design factor, hydrostatic design basis (HDB), standard dimension ration (SDR), and virgin PE compound. Definitions for PE4710, PE compound, potable water, reclaimed water, safety factor (greater than two), sample, specimen, and wastewater have been added in section three. To ensure the pipe meets the appropriate ductility and tensile strength requirements, C906-21 has been updated to clarify the alternate tests that shall be performed.
The revisions to ANSI/AWWA C906 are another step forward in the water industry's use of HDPE piping systems, according to Camille George Rubeiz, co-chair of HDPE municipal advisory board and the senior director of engineering, municipal and industrial division of the Plastics Pipe Institute (PPI).
"The goal of C906 has always been to provide the gold standard that clearly defines the use and manufacture of high-performance HDPE (PE4710) pressure pipes and fittings from 102 to 1651 mm (4 to 65 in.) for waterworks with pressure classes (PCs) ranging from 70 t/m2 (100 lbs/in2) to 235 t/m2 (335 lbs/in2) operating at temperatures up to 27 C (80 F)," Rubeiz stated.
According to C906-21, "the HDPE pipes and fittings are primarily intended for use in transporting potable water, wastewater, and reclaimed water in either buried (open-cut and trenchless), marine or above-ground installations. For PE4710, the PC calculations include a safety factor (SF) greater than two, relative to the allowed operating stress, and the SF for occasional surge pressure is greater than two."
The new standard will be in effect on November 1.