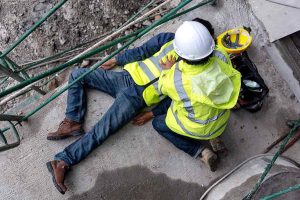 The U.S. Department of Labor's Occupational Safety and Health Administration (OSHA) signed a strategic partnership with DPR Construction to impart fatal construction hazards' training.
Participants in the training will identify and work to prevent four types of fatal hazards related to falls, electrical equipment handling, struck-by- and caught-in-between materials, and equipment incidents. They will also address fire safety, protection from heat illness, and dangers inherent in overexposure to silica and noise. Additionally, partnership participants will develop and implement safety and health management systems and provide training to employees, employers, and supervisors.
OSHA's Strategic Partnership Program works with employers, employees, professional and trade associations, labor organizations, and other interested stakeholders to establish specific goals, strategies, and performance measures to improve worker safety and health.
OSHA's partnership with DPR Construction will focus on the workers involved in the construction of the Peachtree Corners Campus Development Phase II project in Atlanta. The Georgia Tech Enterprise Innovation Institute's Safety, Health, and Environmental Program is supporting the partnership effort.
"Public-private sector partnerships that focus on training and eliminating hazards during major construction projects improve workplace safety and health," said OSHA Area Office Director Joshua Turner in Atlanta-East. "OSHA applauds DPR Construction for its commitment to ensuring that every worker on the project ends their shift safely."
The Peachtree Corners Campus Development Phase II Project includes construction of a 55,600-m2 (599,105-sf) manufacturing building, a 36,656-m2 (394,566-sf) central courtyard, and a training and welcome center.