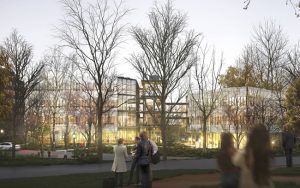 Revised design plans for the future home of the Stavros Niarchos Foundation (SNF) Agora Institute at Johns Hopkins University, Baltimore, Maryland, will enhance the building's navigability and connectivity—both to the Homewood campus of which it is a part, and to the nearby community in Baltimore's Remington neighborhood—while embodying the institute's commitment to inclusivity and openness to the world outside.
Modified plans for the building, designed by the architecture firm Renzo Piano Building Workshop (RPBW) with architect of record Ayers Saint Gross, will preserve the two floating glass cubes that were part of the initial design unveiled in September 2019, but with a twist. The area of the building that will be open to the community, which includes a café and spaces for public gatherings, art exhibitions, and more, has been rotated so that it now faces both the campus and the community.
The building's other cube will support the institute's scholarly work, housing faculty offices, labs, classrooms, meeting and seminar rooms, and open work spaces. Both cubes have been reduced in height in the revised plan, from five floors above ground to four, to make the space easier to navigate and to increase proximity among the building's occupants.
"We are so excited to see this beautiful building taking shape," said Hahrie Han, inaugural director of SNF Agora Institute. "We have been working closely with the Renzo Piano Building Workshop team to ensure that the building will meet the various needs of all of the different groups who will be using it—students, faculty, and staff, the local Baltimore community, and visiting scholars, and speakers from around the globe."
Construction is expected to begin in the summer of 2021 and be completed in 2023. The building will be immersed in a forest-like landscape featuring native trees and other plant species, creating a natural wooded environment that connects to existing forested areas of Homewood campus. OLIN, an international landscape architecture firm, will oversee the landscape design.