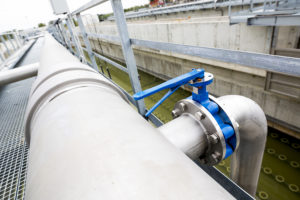 A new Arcadis report, "Empowering Water Utility Innovation," reveals a need for increased sustainability measures in the water utilities industry, with more than half the utilities surveyed overlooking the potential benefits of building green. In the report, Jason Carter, the company's delivery and innovation lead, discusses how sustainability—and, just as importantly, innovation—can offer social, environmental, and economic benefits. His claims are backed up by 90 percent of those surveyed, who claim they believe innovation is critical to the utility's future.
"By building a culture of creativity, investment, experimentation, and incubation, utilities can deploy innovation to foster new approaches to serving customers, managing facilities, and funding infrastructure improvements," said Carter. "Innovation enables utilities to effectively engage internal and external resources to continuously improve operations and increase value for their customers through improved system resiliency, efficiency, and quality—the three elements of water sustainability. Ultimately, it is innovation that leads to sustainability dividends."
The report derived its statistics from the responses of 423 utility professionals across 82 urban water utilities—of which only 40 percent reported employing innovation as a business practice. Carter states this can mean they are neglecting to employ waste- and cost-effective strategies such as:
stormwater harvesting;
advanced metering; and
real-time system monitoring.
To help respond to these problems, the report outlines eight innovative disciplines (such as defining investment challenges, engaging stakeholders in transformation efforts, and utilizing external resources) in a 'Utility Innovation Framework.'
The report is based on a document from the Water Research Foundation (WRF) and Water Environment & Reuse Foundation (WE&RF), "Fostering Innovation Within Water Utilities," for which Carter was the principal investigator. In this document, case studies illustrate how innovative sustainability strategies can help in real-world contexts, such as:
American Water in Voorhees, New Jersey, which employed four ultrasonic algae control units to regulate algae growth without affecting water taste, odor, or toxin levels and ultimately save $87,800 in operational costs;
Toronto Water, which employed real-time intelligence from smart systems to minimize fluctuation in unexpected downtime, cost, and demand, saving a projected $1.2 million in power; and
Jacksonville Energy Authority's water division in Florida, which identified and responded to problems such as outages and flooding by using sensors within an 'intelligent' water network as well as acoustic sensing to digitally assess pipe conditions and generate data.
For more information, the Arcadis report can be downloaded here.