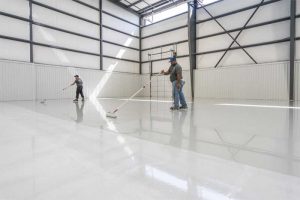 Selection of flooring materials often starts with the preferred visual appeal based on the needs of the architect, interior designer, or owner. What materials would best meet the aesthetic needs: The warmth of hardwoods, the durability and decorative options of tile, or the economy and cleanliness of vinyl? Materials such as tile and sheet goods are typical options, but for many projects, high-performance coatings are a capable and often-desired alternative.
Few materials meet the combined benefits of coatings. The varied chemistries tailored within a complete system provide a seamless, easy-to-clean surface that withstands heavy traffic, impacts, and chemicals, all while offering anything from a utilitarian, industrial look to something fitting for a commercial setting. However, selecting the right coatings and specifying the appropriate system can be more difficult than picking out a type of tile or vinyl. An article in our newest sponsored e-book covers how to specify the right resinous flooring system.
This article appears along with a couple of others in Achieving Success in Concrete Flooring Applications, a free, downloadable resource. To get your copy in either pdf or digital edition, visit www.constructionspecifier.com/ebook/iselogik-achieving-success-in-concrete-flooring-applications-e-book.