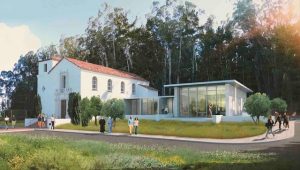 Historic preservation and architecture firm Page & Turnbull is running a campaign to fund the 186-m2 (2000-sf) expansion of San Francisco's Presidio Chapel, proposed by the firm to accommodate the diverse praying needs of the different religions using the facility.
According to the architect Ruth Todd, FAIA, principal at Page & Turnbull, built in 1937, was originally designed, and built by the U.S. Army to serve Christian and Jewish congregations, who traditionally worship in pews, while its downstairs "parish hall," as it has been known, was used for Sunday school classrooms and large community gatherings.
"This presented a design challenge: to create appropriate space for those religions whose followers do not use pews but rather gather in circles, or sit or kneel on the floor, or a combination," she explained.
Since the chapel was built more than 90 years ago, its structure also needs major improvements for seismic stabilization and accessibility, which needs to be updated to meet present time building codes and access laws.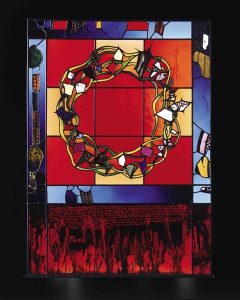 To kickstart the campaign for its funding, the Interfaith Center at the Presidio has mounted the exhibition titled Remembered Light, featuring works from the McDonald Peace Windows collection at San Francisco's War Memorial Veterans Building. The show started at the end of August and runs through until Nov. 20. The show includes two dozen works, each created from shards of stained glass collected by Frederic A. McDonald (1908-2002), who served as Chaplain to Gen. Omar Bradley in Europe during World War II. He collected the shards from bombed-out cathedrals, synagogues, and chapels.
The historic Spanish Colonial Revival-style Chapel is "a beacon of interfaith peace, honoring those who have served and those who have died in service to our democracy," says Gerald Caprio, chair of trustees of the Interfaith Center at the Presidio, the steward of Presidio Chapel and its art collection. "We hope to rehabilitate and stabilize the building and to add a gallery, where the works created from the shards rescued by McDonald can be on permanent display."